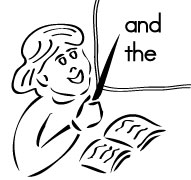 Teaching sight words requires practice, repetition and repeated exposure to sight words. Sight words appear so frequently in written material that many educators recommend identifying them upon sight. Some of these words do not have a typical letter-sound relationship so they cannot be decoded. As a result, an emergent reader will need to learn them as whole words.
Perform a Sight Word Test
Determine which sight words your child can identify. Print the table containing either 25 or 10 sight words located at the end of this post. As your child reads these sight words, track her progress, e.g., highlight the words she correctly identifies. If she mispronounces a word or hesitates, proceed to the next word. After she misses five words, stop the test.
How to Teach Sight Words
Any technique that works is a good one. The following guidelines are ideal when teaching sight words.
Teach the sight words that appear most frequently in both stories and text. A mere twenty five words account for approximately a third of written material and almost half of these words are phonetically irregular. Add another 75 words and these 100 sight words represent approximately 50% of all printed text.
Every child progresses differently. The number of sight words a child can learn during each lesson will vary. Some children can learn only a few a week and others can master several words per week.
Sight words should be introduced in a cumulative manner. As new words are introduced, old words should be reviewed daily.
Teaching Sight Words
Practice, repetition and repeated exposure to sight words is critical when developing a sight word vocabulary. The following lesson helps a child automatically recognize sight words:
Select 5-10 sight words and write each on an index card.
Show the card and slowly read each sight word. Ask your child to say the word with you.
Using your pointer finger, point to each letter as you spell the sight word. Repeat the exercise with your child in unison.
Ask your child to write the word 5 – 10 times in a journal or on a piece of paper.
After you complete a session, offer opportunities for your child to practice the sight words using both reading and writing activities, e.g. read a book or complete a sight word worksheet
Sight Word Activities
Parents and teachers can employ a combination of activities to teach sight words to children. The above lession used sight word flash cards – which are both effective and affordable. The following activities are also good ways to teach sight words.
Let's start with the obvious. The best way to become a good reader is to read. The following activities help a child obtain a sight word vocabulary and become a fluent reader.

Review sight words prior to reading a story.
Point out sight words in a story.
Read the same text repeatedly.
Read books that are below the child's reading level commonly referred to as easy reading.

Playing sight word games provide a child with both an educational and entertaining activity. Playing concentration, old maid and pairs with sight words are also fun activities.
The following writing activities also help children learn sight words.

Take spelling tests (boring).
Create a sight word notebook.
Create sight word cards and place them on the refrigerator.
Complete sight word worksheets.
Sight Words to Teach
Educators recommend teaching words that are frequently found in stories and text. The English language contains 100 high frequency words that account for about 50% of all written material. In addition, a mere 25 words account for approximately a third of all printed material. They are included in the table below.
25 Most Common Words
When introducing sight words for the first time, the words below are ideal due to their frequency.
| | | | | |
| --- | --- | --- | --- | --- |
| the * | in* | he* | as | at * |
| of* | is* | was * | with* | be |
| and* | you* | for * | his | this |
| a* | that * | on * | they | have * |
| to* | it* | are * | I* | from |
*Included on Fry's Primary Students' Most Used Words Lists (K -2)
10 Sight Words
Using the above list of 25 sight words, we further refined the list by referencing Dolch's pre-primer list. The following sight words are included on both lists and make the perfect starting point when developing a sight word vocabulary.
| | | | | |
| --- | --- | --- | --- | --- |
| the | and | a | to | in |
| is | you | it | for | I |
Once your child masters the above sight words, proceed to another sight words list.
Sources: Fry, E.B., Ph.D. (1999). 1000 Instant Words. Westminster, CA: Teacher Created Materials.
Fry, E.B., Ph.D. & Kress, J.E., Ed.D. (2006). The Reading Teacher's Book of Lists 5th Edition. Sanfransico, CA: Jossey Bass.
Rath, L.K., Ed.D & Kennedy, L. (2004). The Between the Lions Book for Parents. New York, NY: Harper Collins.
Vaugh, S & Linan-Thompson, S (2004). Research-Based Methods of Reading Instruction. Alexandria, VA: ASCD.