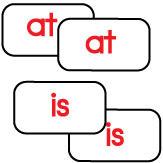 While Bingo is a crowd pleaser for both seniors and children, sight word pairs is more likely to appeal to younger children, since it is played similar to Go Fish. Playing pairs is a great way to help a child automatically recognize sight words. Similar to sight word bingo, it can be played with several children in a classroom or with just a few (2-5 players).
Make Sight Word Game Cards
Create the card deck using a progressive sight word list, which is conveniently located at the end of this post, and make two cards for each word. To ensure that the words on each card are facing the same direction, cut off either the upper left-hand or right-hand corner. To give your child practice writing the words, let them create the cards and laminate each card so you can use them again – repetition is important when learning sight words. If you prefer to use a template to create the cards, please visit our sight word game cards post (link located below) which includes templates with and without dotted lines.
Play Sight Word Pairs
Get ready to learn sight words and have fun! After you create your sight word game cards, deal out five cards to each player and place the rest of the cards face down. The object of the game is to obtain the most pairs. The youngest player goes first and begins by asking another player if she has a specific sight word game card, e.g. and. Obviously, she must also have that card. If the other player does have the card, he must give it up. The youngest player would put her pair down and then ask for another card. If the youngest player did not get the card she asked for, she draws one card from the deck. If the card she draws is the word she asked for, she can ask for another word. Her turn is over when she does not get the card she asked for. The game is over when any player no longer has any cards left.
When possible, read the sight words aloud. Reviewing the words prior to playing the game and throughout the game will assist in obtaining a sight word vocabulary. If a child does not know how to read the word on the card, let him show the card and encourage other players to help read the sight word. Alternatively, if a player does not recognize the word being asked for, show her the card.
Selection of Sight Words
Create decks that are appropriate for your child or students. If your child does not have a sight word vocabulary, consider limiting the cards to 5 – 10 sight words. The following sight words appear very frequently in text.
| | | | | | | | | | |
| --- | --- | --- | --- | --- | --- | --- | --- | --- | --- |
| a | and | in | I | is | it | on | the | to | you |
Alternatively, if your child knows a few use sight words, create a deck using both the ones he knows as well as ones he does not automatically recognize. It is important to practice the ones she already knows while learning new ones. Once they master the first 25 sight words, create a new deck with new sight words but keep the old deck and use it occasionally as a review. Consider using the first 25 sight words located below in the progressive sight word lists post.
Sight word games are great activities that help a child obtain a sight word vocabulary. For more information on sight words and related games, please read our related articles below.
Sources:
Fry, E.B., Ph.D. (1999). 1000 Instant Words. Westminster, CA: Teacher Created Materials.