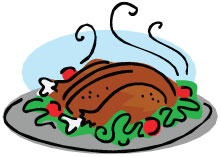 Thanksgiving is one of my favorite holidays and it has nothing to do with gluttony. In fact, I am not a big fan of over indulging until you feel you are about to pop! I enjoy Thanksgiving because it's a day when we reflect on what we are thankful for and appreciate the wonderful people in our lives (the turkey and potatoes are a plus too).
Thanksgiving Coloring Pages, Activities & Games
Thanksgiving is right around the corner. We've included some fun activities to keep the little, wonderful people in your life busy.
The answers to the Sudoku puzzle are noted at the end of this post.
Thanksgiving Crafts
If you are looking for a fun Thanksgiving craft, look no further. I have the perfect activity that only requires minimal creativity and supplies. You will need a piece of construction paper and red, orange and brown finger paint. My daughter brought home from school the fabulous picture below. Using your child's hand and finger paint create a turkey. Add this poem and you have a fabulous keepsake.

Thanksgiving Day Poem
This isn't just any turkey. As anyone can see.
I made it with my hand, which is part of me.
It comes with lot of love, especially to say,
I hope you have a very Happy Thanksgiving Day!
~Author Unknown
This Thanksgiving craft is a perfect activity to complete a classroom or after school with your child. The above craft can be used to create an affordable Thanksgiving placemat – you will want to laminate it. It can also be used to send Thanksgiving cards to those friends and family members you may not see on Thanksgiving Day or as a keepsake to give to your child when they grow up.
Thanksgiving Thoughts
As we approach this holiday season, I encourage both you and your family to perform random acts of kindness.
I recently read an article that pointed out most of our "to do" lists do not include people but rather things or tasks we need to accomplish. During this holiday season, I encourage you to add to your "to do" list, something that involves a family member or friend and make their day. Make them want to thank you for your unexpected random act of kindness.
Go to the store with your child and have them pick out a toy and then donate it to a toy drive. If they melt down, explain to them that there are many children who do not have a lot of toys. As parents, we spend a lot of our time and energy into producing intelligent and talented children. We place emphasis on obtaining good grades and developing skills, e.g., playing sports or a musical instrument. According to a recent poll, only 29% of parents frequently emphasis the gift of giving. This holiday season help your child gain some compassion and give to a child who is less fortunate.
Clean out your closet and donate your shoes. It is estimated that American women own 2.9 billion pairs of shoes. My rule of thumb is if I haven't worn them within the last year, they need to be donated. You can donate to local organizations, e.g., Salvation Army or Goodwill. Another organization, SoleSouls.org, delivered over 16 million pairs of new and gently worn shoes to people in over 127 countries, including Kenya, Thailand and the United States. To find a location near you, click here.
It is estimated that 1 in 4 American children struggle with hunger. After you finish with your closet, proceed to your pantry and donate canned goods. This time of year, there are numerous food drives or donate to your local food bank.
Answers to the Sudoku puzzles –