The following number worksheets provide the perfect opportunity to practice writing the numbers and their related words. Both of my children learned tally marks in kindergarten so we incorporated this concept.
Numbers Worksheets and Flashcards
Many early elementary curriculums explore numbers in the following ways.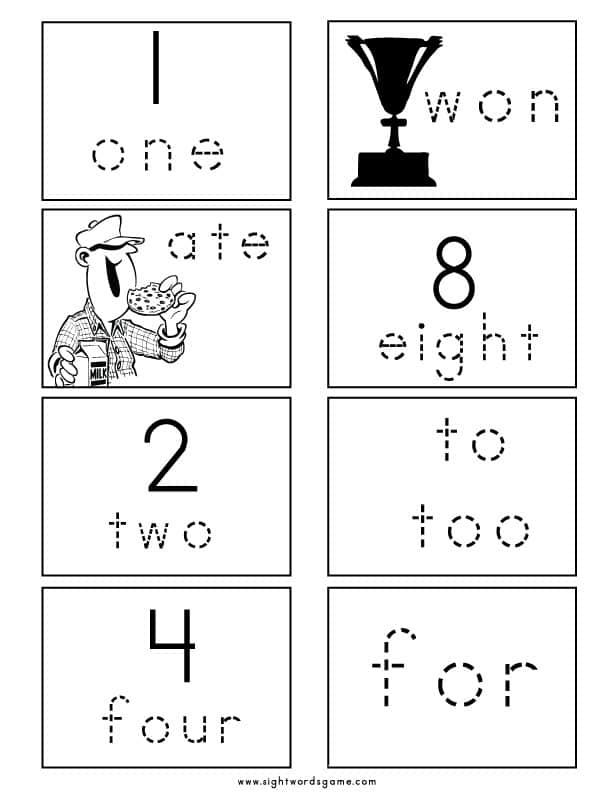 Dolch derived his basic sight vocabulary list by analyzing word lists applicable to early elementary children and selected words based on their frequency. Interestingly, Dolch's word list contains 9 numbers. The numbers 1 through 8 and the number 10 are included on his sight word list. Interestingly, 4 out of the 9 sight word numbers are words that sound the same but have different meanings and spellings; they are homophones. Young readers (even many adults) tend to misuse and misspell homophones.
The following number words are homophones:
one – 1
won – victory
to – toward
too – also
two – 2
for – in favor of
fore – as in golf or on a ship
four – the number 4
eight – 8
ate – to put food into mouth and swallow
Dolch derived his list by selecting those high frequency words common among three lists. He did exercise professional judgment and selected some words that were not as frequent as their counterparts. Dolch hand selected the following "number" sight words: five, six, seven and eight. He stated, "the numbers under ten belong with the other numbers listed." I agree with his decision except I would have added the number 9 and removed the word, shall. Hindsight is 20/20.
The above sight word activities help a child learn both sight words and some important mathematical skills.