Dolch third grade sight words flash cards are a great exercise to practice recognizing these 41 common words. Dolch included the following sight words on his third grade list: about, better, bring, carry, clean, cut, done, draw, drink, eight, fall, far, full, got, grow, hold, hot, hurt, if, keep, kind, laugh, light, long, much, myself, never, only, own, pick, seven, shall, show, six, small, start, ten, today, together, try & warm.
Dolch Sight Words Flash Cards
The three PDF files noted below contain 41 Dolch third grade sight word flash cards. The PDF files are large so it will take a few moments to retrieve them. Consider laminating the flash cards or pasting them to index cards or a similar card stock.
Flash Card Checklist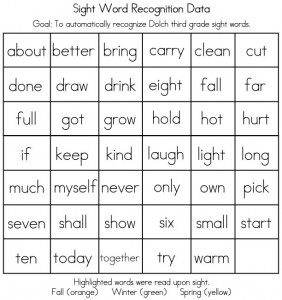 This sight word checklist is a great tool that tracks a child's progression. Consider assessing quarterly "tests" to ascertain which sight words a child can recognize upon sight. Use different color highlighters, e.g. fall (orange) and winter (green), to document a child's progress. Click here for a PDF file of the sight word checklist.
Sight Words Flash Cards
Sight word flash cards are a great tool that offer repeated exposure to high frequency words. Flashcards are extremely affordable and very easy to make – all you need is a pen and some paper (preferably index cards). Using different fonts, we added some additional activities to the typical sight word flash card instruction. We created three different types of flash cards using the following fonts:
Regular font,
Dotted lines, and
Bubble font.
If your child needs practice writing each sight word, consider using the dotted line flash cards. If your child is creative and enjoys coloring, consider using the flash cards with bubble fonts. Color each sight word and add a stick figure to represent the word (some words will be more difficult than others to illustrate, e.g., if). You could also look for pictures or words in a magazine and glue them to the flash card. The regular font sight word flash cards will give you a traditional looking flash card. Consider laminating each flash card as you will most likely use these cards numerous times.
Each PDF file noted below contains 1 page or eight or less sight words per file. Ideally begin with 5 to 10 words and gradually introduce new ones. Remember to review previously learned words daily.
Sight words: cut, fall, far, got, hot, if, long & try
Sight words: drink, draw, grow, hold, hurt, kind, pick & show
Sight words: better, clean, full, keep, laugh, light, small & warm
Sight words: about, done, eight, seven, six, start, ten & today
Sight words: bring, carry, much, myself, never, only, own & together
Sight word: shall
(Note A)
Note A: The word, shall, is not as prevalent today as it was when Dolch originally created his sight word list.
Once your child masters all of these words, review previously learned ones using Sight Words Flash Cards.