Dolch Primer Sight Words Flash Cards are a great exercise to practice recognizing these common words upon sight. Dolch included the following sight words on his primer list: all, am, are, at, ate, be, black, brown, but, came, did, do, eat, four, get, good, have, he, into, like, must, new, no, now, on, our, out, please, pretty, ran, ride, saw, say, she, so, soon, that, there, they, this, too, under, want, was, well, went, what, white, who, will, with & yes.
Dolch Sight Words Flash Cards
The three PDF files noted below contain 52 Dolch primer sight word flash cards. The PDF files are large so it will take a few moments to retrieve them. Consider laminating the flash cards or pasting them to index cards or similar paper stock.
Sight Word Flash Card Checklist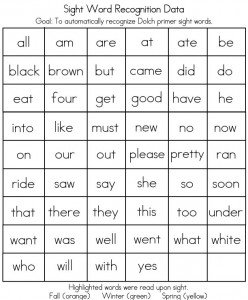 Use this sight word checklist to track a child's progression. Consider assessing quarterly "tests" to determine which words a child can recognize upon sight. Use a different color highlighter for each quarter, e.g. fall (orange), winter (green) and spring (yellow). Click here for a PDF file of the sight word checklist.
Sight Word Instruction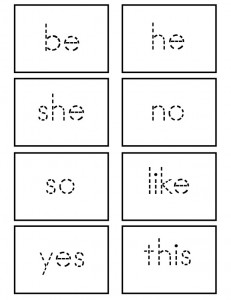 Flash cards can assist a child in developing a sight word vocabulary. They offer the prefect review or can assist a child in automatically recognizing new sight words. Begin with several words, e.g., 5-10. Review each card with your child. Then shuffle the cards and "flash" them. Offer assistance when needed.
Flash cards are easy to make and affordable. We created three types of flash cards:
Using regular font,
Using dotted lines, and
Using a bubble font.
Let your child trace the letters on the flash cards with dotted lines. If your child likes to color, decorate the flash cards with the bubble font. Color each sight word and/or add a drawing to represent the word (some words will be harder than others to illustrate, e.g., at, so). For a more formal look, use the regular font sight word flash cards.
Sight Words Flash Cards
The PDF files below contain 1 page with 8 (1 page contains 5) sight words. This format is ideal because it is recommended to gradually introduce new sight words. Remember to review previously learned words daily.
Sight words: am, are, at, on, have, that, was & with
Sight words: be, he, she, no, so, like, yes & this
Sight words: eat, get, ate, ran, ride, saw, do & did
Sight words: all, but, what, who, came, too, say & must
Sight words: there, they, want, went, our, under, out & into
Sight words: good, new, pretty, please, well, will, soon & now
Sight Words: black, brown, white & four
The above sight word flash cards (black, brown, white and four) contain four blank flash cards. These blank flash cards are ideal for those sight words your child is struggling with – write them on the blank card.
Once your child masters the above 52 primer sight words, move to the next level of sight words which is first grade – Sight Words Flash Cards.