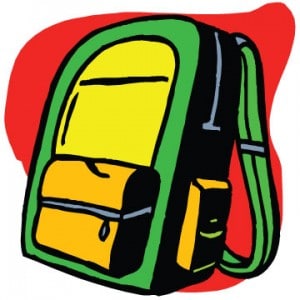 Both of my children used rolling back packs in past years. Initially, they liked the idea of a bag on wheels. The novelty quickly wore off and the backpacks were both heavy and cumbersome to my little ones. Today, our school does not recommend purchasing a backpack on wheels if your child is entering kindergarten.
Choosing a Backpack
Ideally a backpack should not weigh more than 15% of a child's body weight. The table below provides some general guidelines when purchasing a backpack – select one that falls below the suggested maximum weight.
Age (yrs)
Child's
Weight
(lbs)
Maximum
Backpack
Weight (lbs)
4-5
36 – 47
5 – 7
6-8
48 – 59
7 – 9
9-10
60 – 71
9 – 11
11
72 – 95
11 – 14
When purchasing a backpack, look for the following features.
Lightweight Pack – leather backpacks can add unnecessary weight so select canvas or nylon.
Wide Two Padded Straps – two are better than one. While messenger bags are popular today, they have only one strap. Two straps evenly distribute the weight of a backpack.
Padding – sometimes more is better. Backpacks that are padded will protect your child, e.g. won't get poked by the corner of a book.
Compartments – help organize a child's belongings. A backpack with multiple compartments assist in organizing a child's numerous school supplies.
With anything that your child will use on a regular basis, consult with them regarding color, style, etc. You don't want a backpack that stays by the front door because your child doesn't like the way it looks or feels.
Please visit our back-to-school section for more helpful articles and activities to get your little ones ready for school.