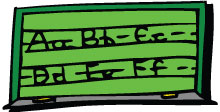 Learning the alphabet occurs gradually, it typically begins in preschool when a child learns the alphabet song and concludes in the latter elementary years when a child masters cursive and knowledge of all the letter-sound relationships.
Learning the Alphabet
Learning the alphabet can be a complex process and typically takes a few years to complete. Every child progresses differently. Below are the milestones by grade.
Milestone
Grade
Sing the alphabet song
Preschool
Recognize name in print
Preschool
Learn the name of the letters in your first name
(Visit our letter activities post for some great ideas.)
Preschool
Write some of the letters in your name
Preschool
Learn the names of all the letters
Kindergarten
Recognize and identify all upper- and lowercase letters
Kindergarten
Write your name using both upper- and lowercase letters
Kindergarten
Learn the most common letter sounds
Kindergarten
Quickly and fluently identify all upper- and lower case letters
First Grade
Know the common sound of each letter
First Grade
Learn long vowel sounds
First Grade
Position words in alphabetical order
First Grade
Form upper- and lowercase letters properly
We offer handwriting advice and free handwriting worksheets.)
First Grade
Proper use of upper- and lowercase letters (see
capitalization rules – some rules taught in 3rd & 4th)
Second Grade
Writes quickly and correctly
Second Grade
Learn the complex letter-sound relationships
Second Grade
Quickly and fluently recognizes letter-sound relationships
Third Grade
Learn cursive letter formation
Third Grade