An open syllable occurs when a vowel is at the end of the syllable, resulting in the long vowel sound, e.g. pa/per, e/ven, o/pen, go & we. Open syllable words are open because they are not closed by a consonant.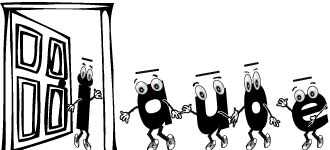 Whereas a closed syllable occurs when a syllable ends with a consonant, resulting in a short vowel sound, e.g., cat, sit, got & wet. The consonant closes these words. Closed syllable words are more prevalent in the English language.
The table below illustrates the open and closed syllable concept.
Open Syllable
(Long Vowel Sound)

Closed Syllable
(Short Vowel Sound)

be

bed

go

got

he

hen

hi

hip

I

it

me

men

no

not

she

shell

we

web
Open Syllable Words
The table below contains over 150 open syllable words. We also provide the syllabication for each word to emphasize the open syllable concept. The table also indicates each word's long vowel sound as well as the location of the open syllable – beginning (initial), middle (medial) or ending (final) of a word.
| Open Syllable Word | Syllabication | Long Vowel | Useage |
| --- | --- | --- | --- |
| able | able | Long-A | initial |
| ache | ache | Long-A | initial |
| acorn | acorn | Long-A | initial |
| acre | acre | Long-A | initial |
| agent | agent | Long-A | initial |
| ago | ago | Long-O | final |
| also | al/so | Long-O | final |
| apex | apex | Long-A | initial |
| apricot | apri/cot | Long-A | initial |
| April | April | Long-A | initial |
| apron | apron | Long-A | initial |
| area | ar/ea | Long-E | medial |
| Asia | Asia | Long-A | initial |
| auto | au/to | Long-O | final |
| baby | ba/by | Long-A | medial |
| basic | ba/sic | Long-A | medial |
| basis | ba/sis | Long-A | medial |
| be | be | Long-E | final |
| beautiful | beau/ti/ful | Long-U | medial |
| being | be/ing | Long-E | medial |
| bicycle | bi/cy/cle | Long-I | medial |
| broken | bro/ken | Long-O | medial |
| bugle | bu/gle | Long-U | medial |
| cargo | car/go | Long-O | final |
| cedar | ce/dar | Long-E | medial |
| China | Chi/na | Long-I | medial |
| climate | cli/mate | Long-I | medial |
| communicate | com/mu/ni/cate | Long-U | medial |
| community | com/mu/ni/ty | Long-U | medial |
| continuous | con/tin/u/ous | Long-U | medial |
| crazy | cra/zy | Long-A | medial |
| cubic | cu/bic | Long-U | medial |
| demon | de/mon | Long-E | medial |
| depot | de/pot | Long-E | medial |
| diagram | di/a/gram | Long-I | medial |
| dinosaur | di/no/saur | Long-I | medial |
| echo | echo | Long-O | final |
| eclipse | eclipse | Long-E | initial |
| ecology | ecology | Long-E | initial |
| edict | edict | Long-E | initial |
| Egyptian | Egyp/tian | Long-E | initial |
| e-mail | e-mail | Long-E | initial |
| emission | emis/sion | Long-E | initial |
| emit | emit | Long-E | initial |
| enunciate | enun/ci/ate | Long-E | initial |
| equal | equal | Long-E | initial |
| equator | e/qua/tor | Long-A | medial |
| equator | e/qua/tor | Long-E | initial |
| equinox | equi/nox | Long-E | initial |
| ether | ether | Long-E | initial |
| even | even | Long-E | initial |
| evening | eve/ning | Long-E | initial |
| evil | evil | Long-E | initial |
| female | fe/male | Long-E | medial |
| flavor | fla/vor | Long-A | medial |
| fuel | fu/el | Long-U | medial |
| fugitive | fu/gi/tive | Long-U | medial |
| funeral | fu/ner/al | Long-U | medial |
| future | fu/ture | Long-U | medial |
| giant | gi/ant | Long-I | medial |
| go | go | Long-O | final |
| gravy | gra/vy | Long-A | medial |
| hazy | ha/zy | Long-A | medial |
| he | he | Long-E | final |
| hello | hel/lo | Long-O | final |
| hero | he/ro | Long-O | final |
| human | hu/man | Long-U | medial |
| humid | hu/mid | Long-U | medial |
| humor | hu/mor | Long-U | medial |
| I | I | Long-I | initial |
| icy | icy | Long-I | initial |
| idea | idea | Long-I | initial |
| iodine | io/dine | Long-I | initial |
| Iowa | Iowa | Long-I | initial |
| iris | iris | Long-I | initial |
| Irish | Irish | Long-I | initial |
| item | item | Long-I | initial |
| ivory | ivo/ry | Long-I | initial |
| January | Jan/u/ary | Long-U | medial |
| label | la/bel | Long-A | medial |
| labor | la/bor | Long-A | medial |
| ladle | la/dle | Long-A | medial |
| lady | la/dy | Long-A | medial |
| lazy | la/zy | Long-A | medial |
| legal | le/gal | Long-E | medial |
| lion | li/on | Long-I | medial |
| maybe | may/be | Long-E | final |
| me | me | Long-E | final |
| menu | menu | Long-U | final |
| meter | me/ter | Long-E | medial |
| moment | mo/ment | Long-O | medial |
| museum | mu/se/um | Long-E | medial |
| museum | mu/se/um | Long-U | medial |
| music | mu/sic | Long-U | medial |
| musician | mu/si/cian | Long-U | medial |
| navy | na/vy | Long-A | medial |
| no | no | Long-O | final |
| obey | obey | Long-O | initial |
| oboe | oboe | Long-O | initial |
| ocean | ocean | Long-O | initial |
| October | Oc/to/ber | Long-O | medial |
| odor | odor | Long-O | initial |
| Ohio | Ohio | Long-O | initial |
| okra | okra | Long-O | initial |
| open | open | Long-O | initial |
| over | over | Long-O | initial |
| paper | pa/per | Long-A | medial |
| piano | pi/a/no | Long-O | final |
| pilot | pi/lot | Long-I | medial |
| poem | po/em | Long-O | medial |
| potato | po/ta/to | Long-A | medial |
| potato | po/ta/to | Long-O | final |
| prefix | pre/fix | Long-E | medial |
| program | pro/gram | Long-O | medial |
| puny | pu/ny | Long-U | medial |
| pupil | pu/pil | Long-U | medial |
| quiet | qui/et | Long-I | medial |
| radio | ra/dio | Long-A | medial |
| radio | ra/dio | Long-O | final |
| react | re/act | Long-E | medial |
| really | re/al/ly | Long-E | medial |
| recent | re/cent | Long-E | medial |
| recycle | re/cy/cle | Long-E | medial |
| relation | re/la/tion | Long-A | medial |
| rifle | ri/fle | Long-I | medial |
| Roman | Ro/man | Long-O | medial |
| secret | se/cret | Long-E | medial |
| she | she | Long-E | final |
| silent | si/lent | Long-I | medial |
| so | so | Long-O | final |
| spider | spi/der | Long-I | medial |
| station | sta/tion | Long-A | medial |
| table | ta/ble | Long-A | medial |
| tiny | ti/ny | Long-I | medial |
| title | ti/tle | Long-I | medial |
| tomato | to/ma/to | Long-A | medial |
| tomato | to/ma/to | Long-O | final |
| total | to/tal | Long-O | medial |
| triangle | tri/an/gle | Long-I | medial |
| uniform | uni/form | Long-U | initial |
| unify | uni/fy | Long-U | initial |
| unique | unique | Long-U | initial |
| unit | unit | Long-U | initial |
| united | united | Long-U | initial |
| universe | uni/verse | Long-U | initial |
| university | uni/ver/si/ty | Long-U | initial |
| unusual | un/usu/al | Long-U | medial |
| usual | usu/al | Long-U | initial |
| Utah | Utah | Long-U | initial |
| utilize | uti/lize | Long-U | initial |
| vacation | va/ca/tion | Long-A | medial |
| valuable | valu/able | Long-U | medial |
| vapor | va/por | Long-A | medial |
| variety | va/ri/e/ty | Long-I | medial |
| vibration | vi/bra/tion | Long-A | medial |
| vibration | vi/bra/tion | Long-I | medial |
| volcano | vol/ca/no | Long-A | medial |
| volcano | vol/ca/no | Long-O | final |
| we | we | Long-E | final |
| zebra | ze/bra | Long-E | medial |
| zero | ze/ro | Long-O | final |
Source: Fry, E.B., Ph.D. & Kress, J.E., Ed.D. (2006). The Reading
Teacher's Book of Lists 5th Edition. San Francisco, CA: Jossey Bass