I recommend watching the movie Spellbound, where every child wants the last word (2002). In the United States, 9 million children compete in spelling bees and approximately 250 children or .0028% will qualify for the Nationals, which takes place in Washington D.C. The National Spelling Bee occurs over 2 days and eventually all but one child will misspell a word.
Spellbound is a documentary about eight highly motivated children and their quest to win the National Spelling Bee and $10,000. You will get a glimpse of the personal lives of 5 girls and 3 boys. These young spellers come from different backgrounds but they all have one thing in common – they spend countless hours preparing for this contest.
The movie is approximately 97 minutes and begins with two unusual interviews. If you can tolerate Mr. McGarraugh's political incorrectness, the movie does offer some good life lessons. One insightful father asks the question, "What is valuable in life that is easy to achieve? Nothing." He also points out that in the United States if you work hard you will succeed and that is not always a guarantee in other parts of the world.
After you get a glimpse of the personal lives of these eight young spellers, the movie proceeds to the 1999 National Spelling Bee. The contests begins with 249 children and by day two there are only 104 spellers remaining. My family and I enjoy friendly competition so we each selected who we thought would win the contest. My husband selected the child whose parents had the resources to ensure adequate preparation and I selected one of the girls who was smiling. Our children wavered between our selections.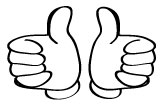 This movie receives two thumbs up. My family and I watched this movie because I was researching spelling bees. Honestly, I would never have selected this movie if it wasn't for my research but we all thoroughly enjoyed watching it. This inspirational movie lends itself to a conversation about achievement. My husband and I concluded by telling both of our children that you can accomplish anything if you work hard enough. This movie clearly demonstrates what it takes to be successful – dedication and hard work. Click here to view the trailer.