Sight word games, like Sudoku, provide great opportunities to introduce new sight words and to review previously taught words. Sudoku puzzles reinforce the individual components of a word – the letters that comprise a word. This Sudoku game uses 6 letters which make this puzzle challenging. If your child is an emergent reader, solve this puzzle with your child. If your child is a fluent reader, playing this Sudoku should offer an exciting activity.
Sight Word Sudoku- Myself
The following worksheet incorporates the sight word, myself. It illustrates how to properly write the word. In addition, it includes a sentence strip to practice writing it properly. It concludes with a challenging Sudoku game. To complete this worksheet, fill in the Sudoku grid so that every box, column and row contain the letters – m, y, s, e, l & f. Make sure the letters only appear once in each box, row and column – there are 18 possible combinations (6 boxes, 6 rows and 6 columns).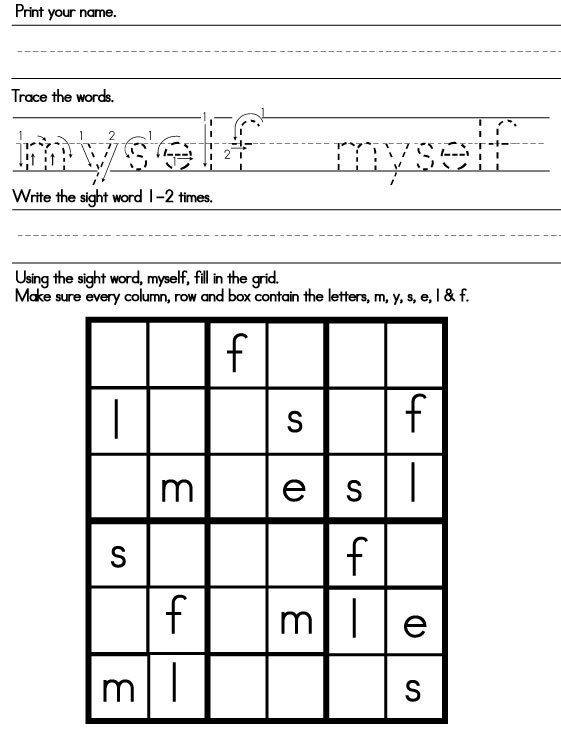 Click here to obtain a PDF file of the above sight word sudoku game.
Sight Word Sudoku – Answer
The answers to the sight word sudoku game are noted below.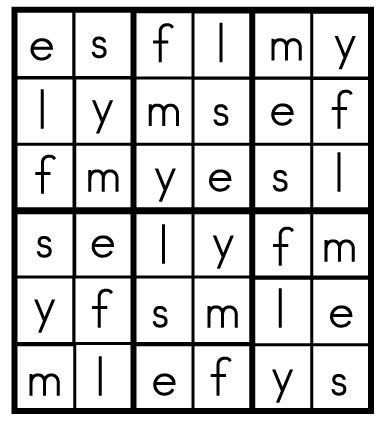 Please visit our post titled Sight Word Games – Sudoku for additional puzzles.