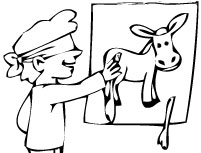 This birthday activity can also be used in a classroom or at home to introduce or review sight words. What better way to obtain a sight word vocabulary than with a donkey and blindfold! We prefer to use tape over a pin when attempting to attach the tail to the donkey.
Make Pin the Tail on the Donkey Sight Word Game
This fun game can incorporate sight words in a number of ways. A word can be displayed on the donkey or each tail can contain a sight word instead of a name or number.
Play Tape the Tail on the Donkey (Sight Word version)
This classical birthday party game is ideal for young children.
Using the templates above, print out a donkey and its tails.
Mount the donkey image to the wall, preferably at a child's eye level.
Cut out each tail and put a piece of tape on the end.
The youngest player goes first.
Spin the blindfolded player around in a circle three times.
Make sure she is facing the donkey and then set her free.
The player whose tail is closest to the bullseye wins.
Instead of using a blindfold, consider converting an old pair of sunglass by covering the lens with construction paper. For more game ideas, visit our sight word games section.