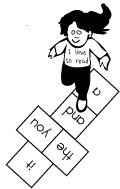 Learning to automatically recognize sight words can occur in many ways, e.g., flashcards, books and even outdoor games. When applicable, learning to read should be fun so what better way to learn sight words than through a game of hopscotch.
Make Sight Word Hopscotch
All that is required for this fun game is a few sight words and sidewalk chalk. Using chalk, create a hopscotch pattern. Below please find four common patterns. On rainy days, consider using masking tape on a floor and write each sight word on a piece of tape or index card – just make sure your child does not slip on the index card while playing the game.
Sight Word Hopscotch Patterns
There are many ways you can make a hopscotch pattern. These are just a few. Consider adding numbers in the upper right corner to aid a child in the order they should hop.
Play Sight Word Hopscotch
The youngest player goes first and begins by tossing his marker, e.g., a pebble or beanbag, into the first square. The marker must land in the square without touching the lines. If the marker does not land in the first square, his turn is over. If the marker lands in the first squares, he must hop over the first square and then continue hoping through the hopscotch pattern saying each sight word as he lands on that square. When he gets to the last square, he must turn around and hop back saying each sight word again. He must pick up his marker without touching the first square and then complete the course by hopping on it. If he successfully completed the course, he would proceed to the next square by tossing his stone to the second square and continue hopping as stated above. He must do this for each square.
A player must hop on one foot on the single squares and straddle the double squares. If a player does not hop with the proper foot, hops on the lines or looses balance while picking up her marker, her turn is over. She would begin her next turn on that square. The first player to complete the course wins the game. For younger players, consider adding a neutral square, e.g., home and allow players to rest at the end of the course. While resting they can recite the alphabet.
Please visit our sight word games section for additional ideas.