Erudition™ helps children learn to read, spell and understand
the most common words in our language.
Winner of game of the year, and other awards
Perfect for ages 4 and up
Upper & lower case letters and their basic phonic sounds (26 cards)
Sight words & definitions (284 cards)
For more information about our products,
read what our customers say about us – testimonials.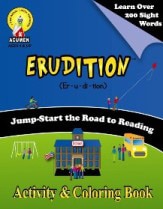 Winner of book of the year,
Perfect for ages 4 and up
Upper & lower case letters and their basic phonic sounds
Sight words and positional words,
Irregular verbs & common nouns,
Sight Word Games
Automatically recognizing sight words help a child when learning to read. Erudition™, the board game, jump-starts the road to reading by taking players on a fun adventure through literacy land. Erudition™, the activity & coloring book, contains fun activities that help children build basic reading and writing skills.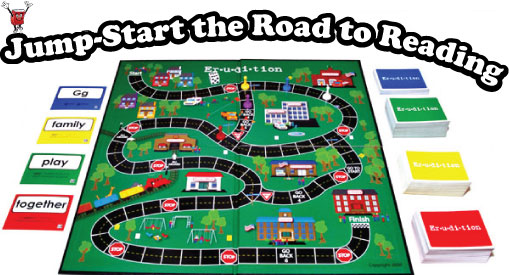 Sight words are the cornerstone of Erudition™
The sight word game cards represent about 50% of all English text. Game cards are categorized by reading level so children of all ages can play together. The sight word activity & coloring book incorporates over 200 sight words. Through interaction with sight words, new readers enhance their reading skills while playing fun games.
Erudition™ products develops skills for successful reading
Teaches children to automatically recognize high frequency words
Promotes instant recognition of common phonetically irregular words
Provides definitions to foster both vocabulary learning and reading comprehension
Provides syllabication to promote word decoding (game cards)
Instills confidence to enable reading development
LEARNING SIGHT WORDS CAN BE ENJOYABLE!