Dolch included the following sight words on his pre-primer list: a, and, away, big, blue, can, come, down, find, for, funny, go, help, here, I, in, is, it, jump, little, look, make, me, my, not, one, play, red, run, said, see, the, three, to, two, up, we, where, yellow & you.
Dolch Sight Words Flash Cards
Each PDF file below contains 40 Dolch pre-primer sight word flash cards. The files are large so it will take a few moments to retrieve each one. Consider laminating the flash cards or adhering them to index cards or similar paper stock.
Sight Word Flash Card Checklist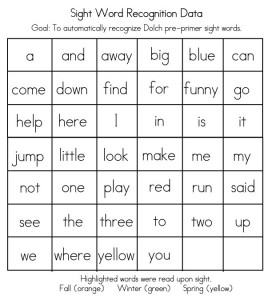 Use this checklist to track a child's progress. Our kindergarten teacher performed quarterly assessments to determine which words a child could automatically recognize. Using colored highlighters, they tracked this information on a similar form and included it in each child's data notebook. Using crayons, you could also let your child color in each box as they correctly identify a word. Click here for a PDF file of the sight word checklist.
Sight Word Flash Cards Instruction
Assist your child in automatically recognizing high frequency words. Flash cards provide the perfect exercise to introduce sight words or review previously learned ones. If learning new words, select several sight words. Review each sight word with your child and then mix up the cards and then "flash" each card. If your child struggles with a word, provide assistance.
Flashcards are very easy to assemble; requiring only a writing instrument and paper. Consider using our flash cards using the following three different fonts:
Regular font,
Dotted lines, and
Bubble font.
The dotted line flash cards provide the perfect letter formation review. Let your child trace the letters on each card. The bubble font flash cards add some fun and creativity to an educational activity. Let your child decorate each flash card. Color each sight word and when applicable draw a stick figure or cut out a picture in a magazine or newspaper that represents the sight word (some words will be more difficult than others to illustrate, e.g., as, of). For a more traditional look, the regular font sight word flash cards are the perfect solution. You will most likely use these cards many times, so please consider laminating each flash card or printing on card stock paper.
Sight Words Flash Cards
The PDF files below contain 1 page or 8 sight words. Gradually introducing sight words is ideal when a child is learning new words. Remember to review previously learned one every day.
Sight words: a, and, in, is, it, the, to & you
Sight words: can, come, for, here, I, me, my & we
Sight words: up, look, go, big, not, said, see & play
Sight words: blue, red, yellow, run, make, jump, help & down
Sight words: one, two, three, find, away, funny, little & where
Once your child masters the above 40 pre-primer sight words, move to the next level (primer) of Dolch sight words flash cards.