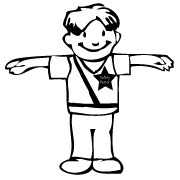 Both of my children were ecstatic when they were selected to be a school safety patrol. Our elementary school takes this role seriously; each patrol must recite the patrol pledge and thoroughly read the safety rules.
School Safety Patrol Pledge
I promise to do my best to:
Report on time,
Perform my duties faithfully,
Make every effort to prevent accidents,
Set a good example,
Obey my teachers and officers of the patrol,
Report unsafe student practices, and
Earn the respect of fellow students.

School Safety Patrol Rules

An elementary school safety should adhere to the following:
Be alert.
Report for duty on time.
Set a good example.
Practice safe walking rules, e.g. cross in the crosswalks.
Never stop cars (that's the function of the crossing guard).
Perform your patrol duties truthfully.
Be neat and clean while on duty.
Be dependable and trustworthy.
Be courteous and polite at all times.
Treat others as you would like to be treated.
Wear your belt and badge proudly.
Do not be "bossy" when reminding follow students of safe walking rules.
Give correct crossing signals to fellow students.
Do not stand or walk on the bus while it is moving.
School Safety Patrol Three Main Functions

Source: Rachel Carson Elementary School, Gaithersburg, MD