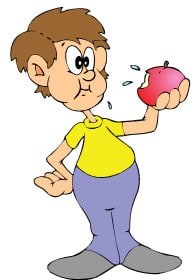 My children come home from school starving; they typically want a meal but it's too early for dinner. As a result, they have a "good" snack. In fact, moderate snacking is acceptable especially if your children are physically active. My children are extremely active so three meals a day does not meet their energy needs. I do try to limit the snacks right before lunch and dinner.
Good Snack Foods
Snack time is a great opportunity for parents to offer healthy food choices to their children. The healthiest and easiest choices are either fruits or raw vegetables. I always have these options available and ready to eat (cleaned and cut up).
Snacking Mood
Healthy Snacks
Thirsty
Skim or low-fat milk, water, vegetable juice and fruit juices,
e.g., apple, orange, grapefruit and grape juice.
Smooth
Yogurt, banana, mango, cottage cheese (good luck with this one) and fruit smoothie. I like to make spinach shakes using low -fat frozen yogurt, spinach and a splash of vanilla.
Crunchy
Raw vegetables, e.g., bell pepper, broccoli, carrots, cauliflower, celery and cucumbers, apple, corn on the cob, unbuttered
popcorn, rice cakes and wheat crackers.
Juicy
Fresh fruit, e.g., grapes, watermelon, berries, peach,
plum, orange and tomato (that's right a tomato is a fruit –
just don't put it in your fruit salad :-)).
Hungry
Hard-boiled eggs (my children love hard-boiled eggs minus the yolks), granola, sandwich, cereal with skim or low-fat milk, peanut butter (on wheat crackers or bread), nuts and cheese sticks.
Children (and adults) often select snacks that are convenient and easily assessable so it's really important to make sure your cupboards and refrigerator are filled with healthy food choices.
Good Snacks for School
Depending upon your child's lunch schedule, her elementary school may allow her to bring in a snack. My daughter eats lunch at 10:30 and my son eats at 12:30 so both of my children are permitted to have a snack during school hours.
Our school recommends bringing in snacks that are not messy, e.g. Doritos and cheese puffs. Students eat their snacks while doing school work so no time will be lost from their academic studies.
Our school also recommends sending in snacks that possess some nutritional value. As a result, our children are not allowed to bring in unhealthy snacks, e.g., potato chips and candy. The following snacks are recommended to bring to school: fruit, vegetables, and pretzels or crackers (preferably whole-grain).
Source:
The American Academy of Pediatrics, Caring for School-Age Children (2004), New York, New York: Bantam Book
Rachel Carson Elementary School Handout, Montgomery County, MD