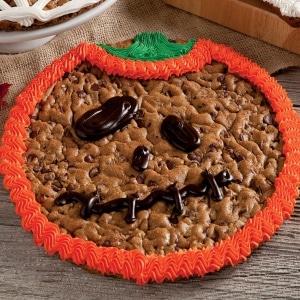 My children absolutely love cookie cake so I decided to get creative and make a pumpkin cookie cake. I am neither a Betty Crocker (as you will read) but I do like to have fun in the kitchen, nor did I aspire to create a master piece like Mrs. Fields cookie cake.
Halloween Cookie Cake

Like I said earlier I am no Betty Crocker but I do use some of their products. Using the sugar cookie mix, I decided to create a very large cookie in the shape of a pumpkin. I put it in the oven and to my surprise the cookie expanded off the cookie sheet onto my oven – what a mess! I was able to salvage most of the cookie so I continued to bake it. After it cooled, I cut the cookie into my desired shape, a pumpkin. I made a onetime purchase of orange frosting (you do know it contains trans fats) and festive sprinkles and let my children loose. They had a blast while I cleaned my oven.
Halloween Recipe Results
Despite my messy oven, the cookie cake was a huge success. My children enjoyed decorating the cake and everyone enjoyed eating it. I would highly recommend making this with your children except I would use only half of the cookie mix to make the cake. When it's cold or rainy, I love to bake and I especially like to incorporate festive Halloween recipes that my children can expect once a year.