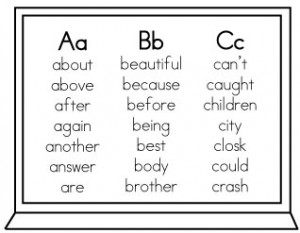 Typically, 2nd grade sight words are prominently displayed (preferably at a child's eye level) on the wall for a student to reference. A second grader should spell these words correctly. By second grade, these words are more commonly referred to as wall words.
Second Grade Sight Words
To assist a child in obtaining the correct spelling, these words are typically alphabetized and placed on a wall in the classroom.
are
easy
listen
second
they
answer
enough
make
since
thing
above
first
made
sometimes
usually
another
found
more
said
use
about
float
many
saw
very
after
friends
new
sure
with
again
favorite
nice
school
went
before
girl
one
small
won
because
have
our
thank
won't
best
how
other
those
where
being
hear
off
that's
were
body
house
often
talking
wanted
beautiful
however
outside
them
who
brothers
heard
people
to
wrong
could
its
phone
two
when
can't
into
pretty
too
what
city
idea
piece
tell
will
clock
joke
quit
there
write
crash
jump
question
they're
watch
caught
junk
ride
their
why
children
knew
right
thought
was
don't
kicked
rain
through
whole
didn't
low
really
than
we
drink
line
sister
then
young
eating
little
Wall Words for 2nd Grade
Many of the above 2nd grade sight words can also be found on a spelling demons list – a list of misspelled words. It is common for students to misspell phonetically irregular words and homophones.
Many sight words are phonetically irregular, they must be taught as a whole word. A child will need to memorize how to spell these words and automatically recognize them. In addition, many sight words are homophones; words that sound the same but have different meanings and spellings, e.g. to, two, too, ate, eight. Many of the above second grade words can also be found on Dolch's 220 instant word list and his 95 nouns list.
Students are expected to reference the above list and spell the above words correctly. If your child is struggling with any of these second grade words, make a journal or create index cards and review these words with your child.