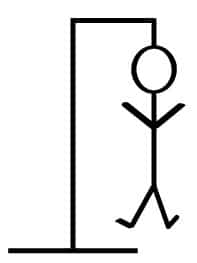 Hangman is another timeless game we've all play one time or another. This classic game can also assist a child in obtaining a sight word vocabulary. This is a fun game that can reinforce the sight words you child is currently learning.
Create Sight Word Hangman
Sight word hangman is a very affordable game that can be quickly created within seconds using a piece of paper and pen. You could also use our templates below. Using Dolch's pre-primer sight words, we created 5 hangman games. We segregated his words based on the number of letters and for obvious reasons, we excluded two words, "I" and "a."
| | |
| --- | --- |
| Sight Words | Hangman PDF |
| it, to, me, we, in, is, go, up & my | Hangman PDF |
| and, the, you, can, for, big, not, see, red, run, two & one | Hangman PDF |
| here, come, look, said, play, blue, make, jump, down, help, away & find | Hangman PDF |
| yellow, three, where, little & funny | Hangman PDF |
Play Sight Word Hangman
Prior to playing hangman, review each sight word. In addition, review the letters of the alphabet, specifically, the name, sound and form. For example, point the letters, "Aa" and ask the following questions:
What letter is this?
What sound does it make?
If your child is interested review the entire alphabet. Also, teach your child that every word must contain a vowel.
Hangman Strategy:
1. Find the vowels, e.g., "a", "e", "i", "o" or "u" (and sometimes "y").
2. Select very common or common consonants. The table below lists the consonants and their frequency.
| | |
| --- | --- |
| Frequency | Consonant |
| Very Common | R, T, N, L & S |
| Common | D, C, M, P & B |
| Less Common | F, V, G, H, J, K, W |
| Rare | Z, X, Qu & Y |
Sight word hangman games are easy to play and many will win. Hopefully, your child wins the game, enhances their sight word vocabulary and has fun! Playing sight word games, like hangman helps a child automatically recognize high frequency words in an enjoyable and entertaining environment.