Develop your child's sight word vocabulary with a fun game!
Learn over 300 Sight Words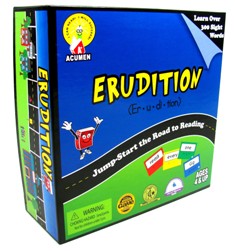 Erudition™ incorporates over 300 sight words, the letters of the alphabet and their consonant and short vowel sounds in an enjoyable, engaging activity. The game takes new readers on a fun adventure through literacy land complete with common landmarks and street signs. They earn a bonus roll after correctly identifying a game card. The first player to reach the library is the winner! The average play time is 15-20 minutes.
Game cards are categorized to promote differentiated instruction so children of all reading levels can play together! They choose from one of four game cards:
26 blue game cards – upper and lower case letters and their consonant and short vowel sounds
94 green game cards – beginner level sight words
95 yellow game cards – intermediate level sight words
95 red game cards – advanced level sight words
The blue cards also contain two words that emphasize that letter's fundamental phonic sound. The sight word game cards include syllabication and simple definitions to assist in word decoding, word pronunciation and reading comprehension.
Through repetitive interaction with basic phonic sounds, sight words and their definitions, new readers enhance their reading skills while playing a fun game. Erudition™ provides families and schools with a useful tool for pre-school and elementary school students. There is no better way to jump-start the road to reading than Erudition™!
Click here for a PDF file of Erudition's Instructions.