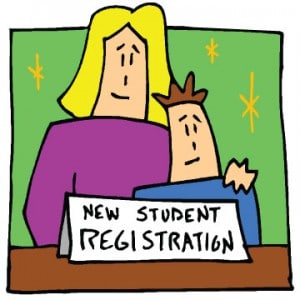 Register your child for school as soon as possible; contact your local school to schedule an appointment. We typically do not find out our class lists until a few days before school starts due to last minute staffing decisions. We live in a transient area; changes in the number of students tend to impact the number of teachers at each grade level.
Determine Eligibility
Our school set a cutoff of September 1st; all children must be 5 years old on or before this date to attend kindergarten. If a child's birth date falls outside the guideline, e.g. September 3rd, she may be given early entrance. Contact your local school to apply for early admittance. Our school requires a completed application form as well as an assessment.
Obtain Documentation
When registering your child, you will need documentation. You will need to prove age, identity, residency and good health. Bring a copy of one of the following items in each category noted below.
Proof of a Child's Age

Birth certificate
Passport or visa
Hospital certificate
Doctor's certificate
Church certificate
Parent's notarized affidavit
(a sworn statement attesting to your child's age)

Proof of Parental or Guardian Identity

Photo ID
Driver's license
Passport
Permanent resident alien card
Court order
Separation or divorce decree
Naturalization papers
Birth certificate
Parent's notarized affidavit (a sworn statement attesting to your relationship, e.g. parent or legal guardian)

Proof of Residency

Homeowner – Copy of property tax bill*
Renter – Copy of current lease or utility bill*

* These items are the most common forms of documentation.

Other forms of supporting documents that can validate that the parent/guardian reside in the school district are as follows:

W-2
Current pay stub
Income tax form
Two consecutive bank statements
Medical bills
Car registration
Car insurance policy/ bill
Current utility bill
Current phone bill
Voter registration card

Proof of Physical Examination and Immunizations

Our school district requires proof of a physical examination for all first time or transferring students. The examination must be conducted within nine months before or six months after enrollment.

Contact your doctor or local department of health and human services to inquiry about the immunizations required by law for entrance into school. Our school district does allow exceptions but only for medical or religious reasons. In addition, if you lived outside the US, you must show that your child is free of tuberculosis.
One last comment for any parent contemplating early admittance to kindergarten – personally, I would not accelerate your child unless you fear they will be bored and not pay attention to the teacher. My daughter missed the cut-off (by 17 days) and we did not opt for early entrance. She has excelled in each grade. I have heard many parents regret their decision to accelerate their child, as their child struggles with class work and/or homework. My husband and I weighed the financial benefits (not paying for one more year of preschool) verses our daughter's educational success. Before you make this decision, think about what would be best for your child.
Please visit our back-to-school section for more helpful articles and activities to get your little ones ready for school.
Source: www.montgomeryschoolsmd.org