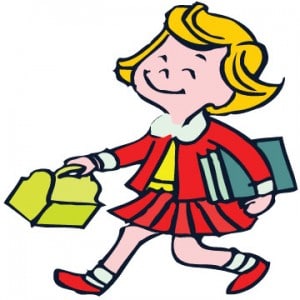 It's that time of year again, when we begin getting our children ready to go back to school. Bathing suits, flip flops and daisy dukes are typically not acceptable so many of us will need to update our children's wardrobes.
Before hitting the stores for new clothes, do a little "homework" to minimize costs and maximize shopping experience (get some great buys).
Take inventory.

Have your child try on her clothes – perfect opportunity to purge closets and donate those clothes your child has out grown. Don't forget dresser drawers. We all have one or two socks with holes that need to be discarded.

Ask questions.

Does your school have a dress code? Our school district implemented the following dress code:

Students are expected to wear appropriate clothing to school. Clothing that offends others or disrupts learning is inappropriate. Clothing that includes references to gangs, drugs, alcohol, and sex is not acceptable.

Sometimes one must state the obvious. In addition, they require sneakers on PE days. If possible, send your child in sturdy shoes and avoid flip flops.

Be smart.

Buy kid friendly clothing, e.g. machine washable and wrinkle free. If possible, buy color coordinating clothes. My son prefers black, red and whites, while my daughter prefers pastel colors. Both of my children can mix and match most of their outfits. My family and I live outside DC so our first two months of school are typically warm. Our back to school clothes (aka summer clothes) are on the clearance racks which mean great deals for Mom. We typically hold off on winter gear until November.

Prepare a budget.

Let your children see you allocate a set amount of money for back to school shopping. Let them truly experience decision making, e.g. if she buys the expensive pair of jeans she needs to get one less shirt.
Back to School Clothes Checklist
Shopping is so much easier if you formulate a plan. Below please find a list of back to school clothes you may need to purchase.
Underwear – (Not optional in my house).
Undershirt – (Optional – my 10 year old son just started wearing these).
Socks
T-shirts
Sweaters or sweatshirts
Pants, e.g. jeans, athletic or yoga pants – My children prefer the comfort of athletic or yoga pants but they do own a pair of jeans.
Skirt/Top or Dress (girls only) – My daughter is currently boycotting these items so I have one black ruffle dress which goes with almost every season and occasion.
Shoes, e.g. sneakers – Try to purchase sturdy shoes that offer support and avoid flip flops if possible.
Boots – Make sure you go for function over style – you want to keep your child's feet warm and dry!
Light jacket
Winter coat
Rain coat – When my children were younger I could get away with this practical article of clothing but now that they're older they will not wear a rain coat.
Winter Gear – hat, gloves and scarves
Please visit our back-to-school section for more helpful articles and activities to get your little ones ready for school.